THE FIRST FULLY ELECTRIC JEEP
With an electric range of up to 250 miles, this new compact SUV will offer impressive ground clearance, breakover and approach angles, while delivering a modern and technologically advanced interior, with plenty of space for people and cargo
Stylish, functional and spacious, the Jeep® Avenger is freedom personified. The all-electric model gives you an emissions-free driving experience with sharp performance. You can rely on its Avenger-mile range to get to to your destination, and thanks to its fast-charging capabilities you'll never be off the road for long – unless you want to be. It's the perfect adventuring companion.
ELECTRIC POWERTRAIN
The Jeep Avenger has a new generation electric propulsion system which combines a new electric motor and a new battery.
Thanks to the high power and torque, in addition to a specific e-powertrain calibration, the new Avenger offers uncompromised driving enjoyment on- and off-road capability.
The new 400 volt electric powertrain supplies 115 kW, corresponding to 156 horsepower, and 260 Nm of maximum torque. The new 54 kWh battery offers a high energy density and an excellent ratio between nominal and usable energy. Specifically, the battery pack is made up of 17 modules and 102 cells utilizing NMC 811 Lithium-Ion chemistry and delivers 250 miles of range in the combines WLTP cycle, which becomes 340 miles in the urban cycle.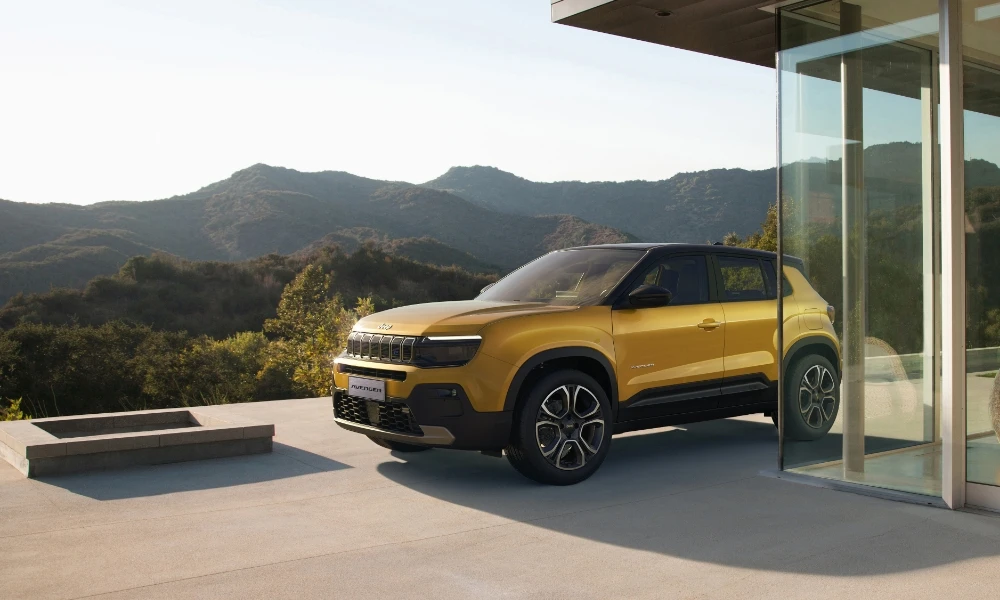 RECHARGING
Charging the new Avenger is extremely simple. Via a 100 kW Mode 4 cable in direct current, connected to fast public charge, three minutes of charge is enough to provide travel distance of 30 km; or 24 minutes is sufficient to charge the batteries from 20 to 80% charge.
Considering that European users travel 18 miles on an average per day, it is likely that the vehicle can be driven for days before recharging. Meanwhile, with an 11 kW Mode 3 cable for alternating current connected to a Wallbox or public station, it is possible to 'fill up' (from 0% to 100%) in 5.5 hours.
CAPABILITY
The new Avenger is the first front-wheel drive Jeep vehicle equipped with standard Selec-Terrain and Hill Descent Control which, together with the impressive approach and departure angles and the vehicle's ground clearance, make the Avenger a remarkable electric vehicle.
The Selec-Terrain system offers six modes: "Normal" for everyday driving; "Eco" to enhance range; "Sport" for more driving fun; "Snow" for maximum traction on icy roads or trails; "Mud" to optimise mud performance and to enhance grip; and "Sand" to limit the risk of becoming stuck on sandy soil.
The vehicle's architecture reaches the highest levels of compactness possible without compromising any of the Jeep brand's distinct characteristics.
COMPACT STYLE AND FUNCTIONALITY
The new Avenger is only 4,08 m long, which is 16 cm shorter than the Renegade. It has short front and rear overhangs which enhance its proportions. Additionally, its on-the-road presence is enhanced by larger wheels than would be expected from a vehicle of this size.
Thanks to the combination of short overhangs and large wheels, the Avenger offers the best ground clearance in the category (200 mm), as well as outstanding approach (20°), breakover (20°) and departure (32°) angles, which are essential for off-road driving but also useful in city life, for example when driving up a steep parking ramp.
INTERIOR
Once inside the vehicle, the eyes are immediately drawn to the upper part of the dashboard where a single horizontal function 'beam' which includes all the air vents, ambient lighting and a centrally located 10.25 inches touch screen, which can be seen by both the driver and passenger. The lower side of the dashboard is marked by a wide-open storage shell.
The central console has also been developed to maximize available usable space for driver and passenger, totalling 34 litres of frontal storage, which is an impressive figure considering the 15-litre average in the segment.
The boot volume is among the best at 380 litres, and its functionality can be seen in its sill height of the boot loading which has been lowered down to 720mm, the rear hatch width which has been increased to over one metre and the addition of a hands-free power liftgate which is not usual in the segment.
TECHNOLOGY
The new Jeep Avenger ensures a completely digital on-board experience. State-of-the-art infotainment is present on all versions, equipped with a 10.25-inch radio screen Uconnect Infotainment combined with full digital cluster available in two variants (seven and 10.25 inches).
The smartphone-like graphics is embedded in the Uconnect 10". In addition, the system offers the possibility to physically mirror one's own device on the radio via wireless Android Auto and Car Play; mix and match content to build your own interface (up to twelve widgets per page, up to six pages); embedded navigation by TomTom with enhanced natural voice recognition; and over-the-air updates.
The new Jeep Avenger also offers a suite of services and functionalities that users can take advantage of remotely. For example, thanks to the Jeep Mobile App, users can locate the location of their cars directly from their smartphones. Users can even lock and unlock their doors, check the battery level, set the climate functions and recharge the vehicle, as well interact directly with the Avenger through a vocal assistant.