For those open to think ahead and try new things, with meaning and sustainable impact.
Make way for a CUV with innovation at its heart. Bold and assertive design in its body. Spacious yet minimalist inside. And futuristic in its advanced technology, connectivity and safety. Choose from the Niro Hybrid, the full-battery electric Niro EV, and the Niro Plug-In Hybrid.
A bold future ahead
Sleek yet striking, with a unique double cowl bonnet to emphasise the signature tigerface front and Heartbeat Daytime Running Lights, the all-new Kia Niro's exterior styling is guaranteed to turn heads. Admire the sense of uniqueness with the combined matt and gloss highlighted two-tone front grille. With its hexagonal pattern, it says futuristic and high-tech from every angle. Complemented by a powerful lower cladding design for an extra-wide look, with an integrated central charging point.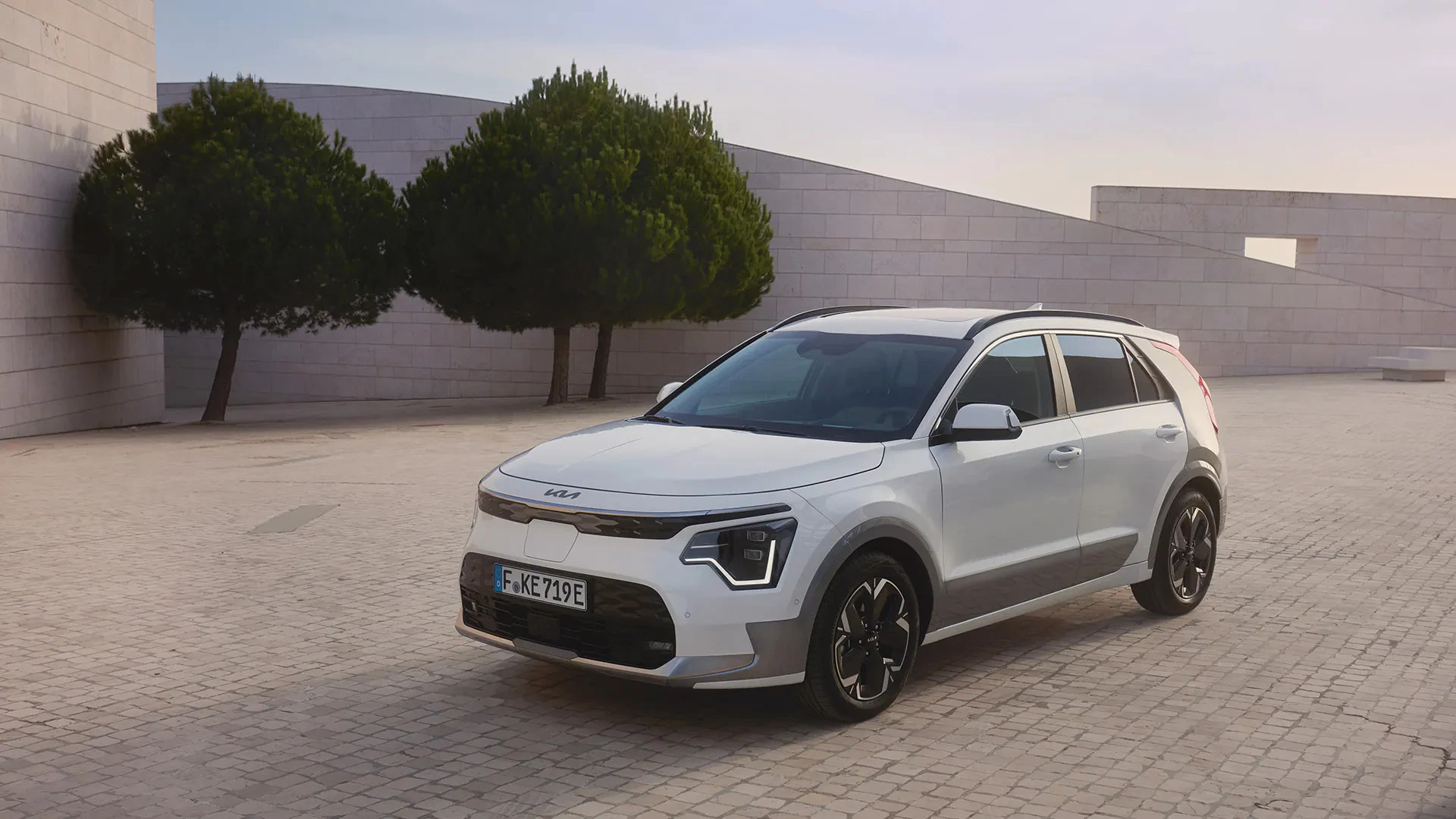 Distinctive Crossover side details
Designed around a simple character line with bold CUV styling, the side profile of the all-new Kia Niro features unique body cladding that conveys a distinctive impression. This is combined with a high-tech two-tone colour body with High Glossy or Steel Gray cladding and a stylish Aero C-Pillar at the rear to enhance airflow and aerodynamics.
Confident power from behind
Bold and stylish: At the back, a simple and beautiful design concept incorporates Boomerang-style taillights, a Heartbeat reflector, rugged skid plate, and strong but simple lower bumper. It complements the front of the EV with clean sophisticated body lines, and the unique Third Roof Pillar (C-Pillar) for improved aerodynamics.
Impactful Niro EV design details.
The fresh and expressive sculpted body shape and exceptional crossover looks of the Niro are designed to delight in what the future holds. Besides the distinctive two-tone hexagonal front grille, the unique EV-only exterior design also features a wide body coloured bumper design, in-corporating a central charging point. Plus Steel Gray body cladding and a Steel Gray Aero-Third Roof Pillar are available for yet more character.
Choice of dynamic alloy wheels
Created exclusively for the all-new Niro EV, the custom alloy 17-inch wheels have a 5-petal design and feature a two-colour finish with black accents. Meanwhile, the Plug-In Hybrid features specially designed 18-inch alloy wheels.